Free On-Demand Webinar
The New B2B Buying Journey:
6 Digital Trends to Drive Sales (2021)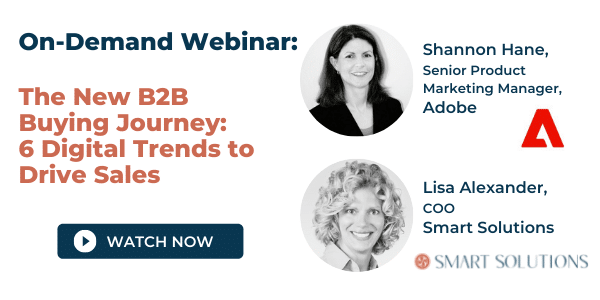 The B2B buyer demographics and preferences are changing. It is time to evaluate your B2B customer interactions. Creating a robust and easy-to-navigate online presence is crucial for B2B business growth.
Did you know:
90 percent of B2B buyers conduct research online before committing to a purchase

74 percent view website purchases as more convenient than buying from a sales rep

84 percent prefer to make repeat purchases through online channels
Listen as Shannon Hane, Senior Product Marketing Manager Adobe, and Lisa Alexander, COO of Smart Solutions, show how B2B buyers prefer to shop online and what traditional B2C trends are helping with B2B expansion in this free on-demand webinar, The New B2B Buying Journey: 6 Digital Trends to Drive Sales (2021).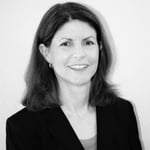 Shannon Hane
Senior Product Marketing Manager, Adobe
Shannon Hane is a Senior Product Marketing Manager for Adobe. She leads a team responsible for Adobe Commerce go-to-market strategies, sales enablement, and customer and market research with particular focus on B2B commerce. Prior to joining Adobe, Shannon managed product marketing for commerce and small business solutions for Magento, eBay, and Yahoo!. She has an MBA from UCLA Anderson School of Management and has held a range of marketing positions at Inktomi, E*TRADE, and Apple.

Lisa Alexander
COO, Smart Solutions
As the Smart Solutions COO, Lisa guides strategic direction, improves efficiencies, and ensures all team members have the resources and training they need to be productive, stay current in our technology stacks, and become the best they can be. With a start in the US Army Signal Corps, creating and managing communications and information systems for the command and control of combined arms, Lisa has over 30 years experience in information technology with the last 13 years dedicated to architecting and building eCommerce solutions.